Now that you understand what a collection agent's actual responsibilities are, let's explore how to choose the right business collection agency. Once you submit a free request for quotes through Collection Agency Research, you will be connected with three to six different collection agencies. Make sure to meet with as many of them as possible before making a final decision. That way, you can assess each service's offerings to find the one that works best for your business.
Choosing the right agency
Remember: Our vendors only work with collection claims against other businesses. They don't handle consumer debt or court settlements.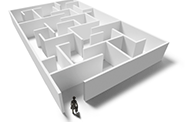 Success rate: The first thing you should look at is each collection agency's overall success rate. This is actually more important than the amount of money they collect. If a collection agency retrieves a greater percentage of total past-due accounts, it will mean more money for your business. Of course, the more successful they are at collecting, the more they will charge for their services but you will receive more money over time vs. a less successful agency with lower fees.
Industry focused: You want an agent that specializes in businesses like yours. They may best understand how to work with professionals in that industry and might have a higher success rate pursuing those types of debts.
Agency reputation: Company reputation is an important attribute: Do they comply with the FDCPA? Are they well known in the industry? Are there several complaints about them through the Better Business Bureau? You want to work with an agent that carries the least baggage but offers the most reliable service for your business.
Two-way communication: Communication is as essential in this relationship as any other business arrangement. Both parties need to share important information with each other before, during, and after the collection process. Find out how detailed their reporting is for the results of their collections, how you receive payment upon collection, and what information you can share to make their job easier.
Trial & error: It's important to "try before you buy." When you meet with several collection agencies, give each of them a few delinquent accounts and see how they perform. Judge them based on how they work with clients, the amount they collect, and how quickly they remit payment. You can then select the best service.
Observe the process: Another way to find the right business collection agency is to see how they conduct business. Ask to view a sample collection letter to see what they send to clients. If the agency's offices are close by, arrange to visit them in person and sit in on a few collection calls to learn first hand how they do business.
Licensed & bonded: Make sure every business collection agency is officially licensed. Each should be licensed and bonded by the state they work in. They also need to stay on top of individual state laws that relate directly to them. Along with the requisite licenses, agencies should also have Errors and Omissions Liability insurance. This protects your company (and the agent) from getting sued if a debtor files a lawsuit against you for violating the FDCPA.